Many couples wish for a child. Not every desire can be realized so easily. One of the influencing factors is the way we nourish ourselves.
Anything that is good for your general well-being also has an effect on your ability to conceive. And this is where the first barrier comes in:
After all, who can supply themselves with the recommended 5 portions of fruit and vegetables? And this every day? Sun-ripened, no long transport routes, as untreated as possible, without preservatives and organically grown? And then 2/3 vegetables and 1/3 fruit?
Studies show that only about 50% of women who wish to have children follow the recommendations of the quantities of folic acid, iodine, iron and calcium. If you have used contraception up to now, you should pay particular attention to these micronutrients. The pill can reduce the intake of iodine and folic acid. And folic acid, for example, cannot be produced by the body itself and must be consumed with food.
Folic acid increases fertility in men and women. The reference recommendations speak of 300 µg folic acid. Women who wish to have children are recommended 550 µg folic acid. The increased requirement is derived from the smooth process of cell division and embryo development.
Iron prevents anaemia, which some people notice in fatigue and susceptibility to infections.
Another important role is played by iodine, which is also needed for the formation of thyroid hormones. These hormones influence the metabolism of all organs. They are also important for the growth and development of the central nervous system, not only for the child but also for the mother.
For iodine 150 µg per day are recommended, pregnant women and nursing mothers should even consume 200- 260 µg iodine per day according to the recommendations in Germany.
But also the supply of vitamin D and omega-3 fatty acids is often insufficient.
A lack of omega-3 can damage the brain and is responsible for many mental health disorders. The question is, who manages to eat cold water fish 2-3 times a week, which are excellent sources of omega-3 fatty acids?
And the next question is whether your cell power plants are running at peak performance? Then you are well supplied with the coenzyme Q10. This is particularly important to ensure that ovum and sperm can develop and divide optimally. Q10 is the only fat-soluble antioxidant that we can produce ourselves in the body. But only if you eat a balanced diet. As a general rule, there are no foods that contain a lot of Q10. Meat, mackerel, sardines, spinach, onions and nuts are the most abundant.
The National Consumption Study II from Germany, which was carried out by the Federal Ministry of Food, Agriculture and Consumer Protection on 20,000 participants from November 2005 to January 2007, shows a frightening picture. On the one hand we supply ourselves with too many calories (energy increase around +26.8%) and on the other hand a very clear undersupply of vital substances. See the table below.
Supply of Vital Substances *
In pregnant women, the supply of vital substances is often even worse. However, the unborn child is particularly dependent on vitamins, trace elements and amino acids in its development process.
It can be assumed that the general supply of vital substances has continued to deteriorate significantly in the meantime, as the study dates from the years 2005-2007!
*Vitamin supply during pregnancy (25-34 years). Source: Results of the National Consumption Study II (2008), commissioned by the Federal Ministry of Nutrition and Food Safety. Data for iodine only apply when iodine-enriched table salt is used, otherwise iodine deficiency is found in >90% of the population.
In addition to the supply of micronutrients, also weight plays a major role. Sex hormones are produced in fatty tissue. And the more fat there is, the higher the hormone surplus. And this can cause the cycle to get mixed up and fertility to be reduced. If you are about 20% overweight, it is strongly recommended that you reduce your weight. So if a woman ideally weighs 61 kg, you are already 73.2 kg if you are 20% overweight. You can easily calculate your own BMI from the graph:
The BMI is calculated by dividing the body weight (in kg) into by body length (in m) to square: One person, which is 1.70 m tall and weighs 61 kg, therefore has a BMI of: 61:(1,7x1,7) = 21,1.
Please try to reach your ideal weight before the beginning of pregnancy. Even if you don't, your chances of getting pregnant will increase.
And if you are underweight, we have the opposite challenge, because your body hardly has enough energy to survive a possible pregnancy. Menstruation and ovulation often fail to occur. In addition, the low fat content has a negative influence on the formation of leptin, which slows down the formation of reproductive hormones.
It is recommended to start with a healthy diet at least one year before the beginning of pregnancy, as organ malformations develop during the first weeks of pregnancy. And if the positive test is present, it may already be too late.
But men also have a crucial influence on the desire to have children. The development and maturation of sperm cells reacts sensitively to disturbances and / or an undersupply of micronutrients. And here we are talking about vitamins, trace elements and the amino acid L-arginine.
In general, sperm and ovum are particularly susceptible to oxidative stress and free radicals. These are aggressive oxygen atoms that seek to balance their unstable state by trying to snatch electrons from intact molecules. And they penetrate into body proteins, body fats or genetic material. They are caused by metabolic processes, but also by external factors such as smoking, UV rays, pollutants, environmental pollution such as heavy metals, pesticides or intensive sports.
The oxidative stress caused by free radicals should be kept as low as possible as it can significantly affect the genetic make-up and development of healthy spermatozoa. It also has a major influence on aging.
The whole issue is very complex. And what many don't know is the fact that pharmaceuticals are vital substance thieves. This means that in the case of taking medication, the need for vital substances increases many times in order to compensate for the gaps.
In the very simple graphic 1 (cross of requirements) you can quickly find out for yourself where you stand with the 4 listed areas.
And you can see for yourself, how big the gap is to the optimum at 10.
Graphic 2: What are your challenges?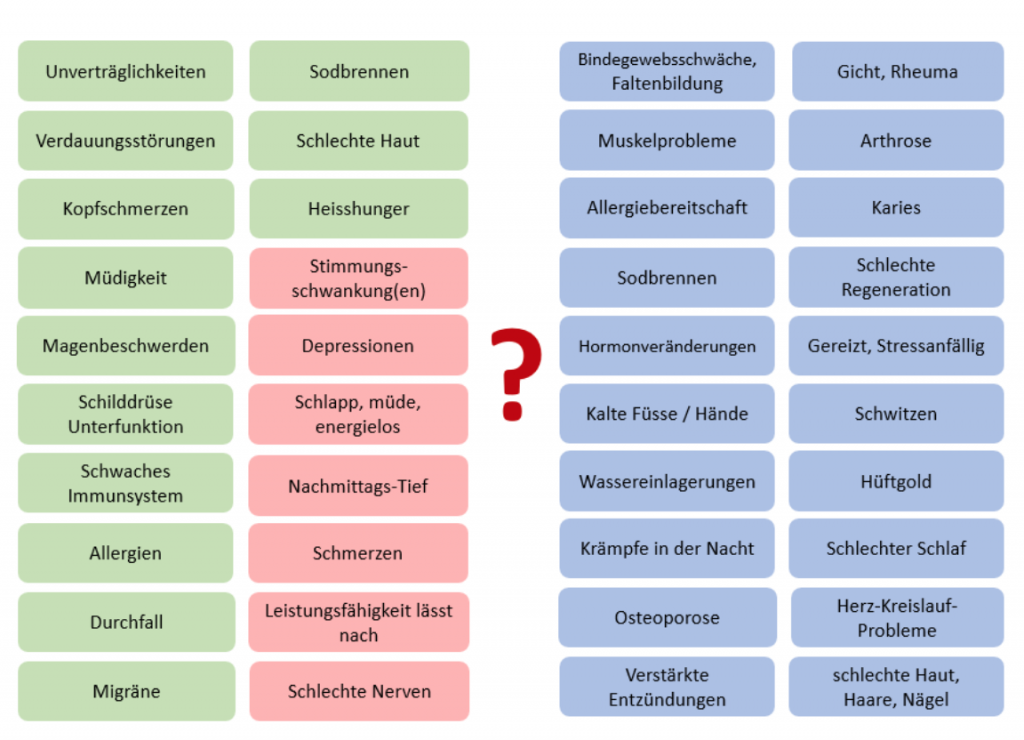 In summary, it can be said that an optimal weight and the supply of vital substances, i.e. vitamins, minerals, trace elements and secondary plant substances, play a crucial role in the realisation of a good general state of health, the reduction of oxidative stress and the implementation of the desire to have children. And the disorders of well-being, as you can see in chart 2, are a serious call for help from your body to bring it back into balance.
We offer you help and support throughout Europe in the analysis of your general well-being and the identification of individual solutions. For many years we have been helping people to feel better and to improve their quality of life. And this also includes the realisation of the desire to have children on the basis of a healthy diet.
We offer a 30-minute free initial consultation: https://stoffwechsel-aktivierung.ch/konzept
Wetzikon, 24.6.2019
Marina & Michael Paschka 
Experts for customized, individual concepts for metabolic activation


Owner and founder of MP Coaching GmbH, Wetzikon, Switzerland

www.stoffwechsel-aktivierung.ch
+41 43 540 51 60